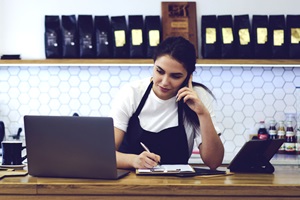 On-Demand Webinars:
NEW: REOPENING - OPERATOR INSIGHT FROM ANDOLINI'S PIZZA
Mike Bausch, from Andolini's Pizzeria, shares his thoughts on how to approach preparing your operation to open back up. | May 18, 2020 | 20 minutes

Listen Now


NEW: MANAGING THROUGH CRISIS - FUNDING AND CASH MANAGEMENT WITH SCORE
In this webinar you will learn how to manage your cash flow and plot your course with the funding programs and options available to you. | May 11, 2020 | 28 minutes

Listen Now | Download PDF


NEW: REOPENING - QUALITY ASSURANCE GUIDE
A review of food safety, sanitizing, personal hygiene and more. Learn how to keep your operation clean and safe while keeping your customers happy. | May 10, 2020 | 27 minutes

Listen Now


NEW: REOPENING - FINANCES
Thoughts and insights into various finance related matters as it relates to reopening and short- to mid-term operational support. | May 8, 2020 | 13 minutes

Listen Now

NEW: REOPENING - PEOPLE TIMELINE FOR READINESS
In this webinar you will learn what steps you should be taking now and in the future related to workforce planning, HR policies and communication. | May 8, 2020 | 13 minutes

Listen Now | Download PDF

NAVIGATING RESOURCES AND OPTIONS - FAMILY FIRST CORONAVIRUS RESPONSE ACT UPDATES
Learn about the recent updates surrounding the act and how to handle certain employee leave scenarios. | April 20, 2020 | 21 minutes

Listen Now


NAVIGATING RESOURCES AND OPTIONS - QUESTIONS & ANSWERS
Fahrenheit Advisors answer questions received from customers around SBA loans, new legislations due to coronavirus and more. | April 20, 2020 | 37 minutes

Listen Now

OPERATING YOUR BUSINESS IN UNCERTAIN TIMES
The impact of COVID-19 on the restaurant industry has been profound. We've partnered with Fahrenheit Advisors, producing a webinar that offers operator insights in the areas of liquidity, employee management, and business strategy – all through the lens of recently passed legislation. This webinar should make it easier for operators to provide the greatest benefits to their business and their employees. | April 3, 2020 | 56 minutes

Register to Listen



Online Resources
Use these sites to gain a better understanding of COVID-19, its impact, and best practices for your operation.
HEALTH AND SAFETY RESOURCES
ServSafe COVID-19 Training Courses
Free courses for your entire operation
Centers for Disease Control and Prevention
World Health Organization
SMALL BUSINESS RESOURCES

U.S. Treasury
Details on programs from recent legislation inclusing SBA updates.

U.S. Small Business Administration
Small business guidance and loan resources, including Paycheck Protection Program

Paycheck Protection Program Application

Careeronestop.org
State-by-state guide to unemployment benefits

National Restaurant Association
Information on CARES Act, the foodservice industry and ideas
U.S. Department of Labor - Wage and Hour Division
COVID-19 in the workplace and more
Fahrenheit Advisors Insights
Articles and videos for small businesses including topics on technical legislation, leadership in a crisis and a five part coaching series.
SCORE
Free business mentoring and education
Take-out and Delivery
Performance Foodservice has compiled resources to ensure you can give customers the best possible experience.
Visit our take-out and delivery page to learn more.
Thank you for being a valued customer and giving Performance Food Group the opportunity to serve you.
Managing Potential Risks with Coronavirus (COVID-19) Across PFG
Performance Food Group continues to actively monitor the coronavirus (COVID-19) situation and modify our response as new information becomes available. We've implemented precautionary measures based on the best information available, best practices, and recommendations from the Centers for Disease Control and Prevention (CDC) and other government agencies.
Our corporate leadership team is regularly engaging with field leadership across the country to understand needs, concerns and questions from our associates, customers and other valued partners to help us make the best decisions for all our important stakeholders.
PRECAUTIONARY MEASURES
PFG continues to take precautionary actions to protect our workplace and our associates. This includes enhanced cleaning, disinfecting and sanitizing efforts and making these types of items more accessible to our associates onsite. We are continuing to reinforce the importance of following CDC guidance, especially wearing face masks/covers, frequent hand washing and social distancing.
PFG will not provide or ask for reports of positive COVID-19 illnesses. This is for the protection of our associates, as well as our business and yours, and in adherence to health insurance privacy laws and local health department contact trace policies.
PFG is strictly adhering to our illness reporting policies and associate work restriction policies.
We have implemented a daily body temperature screening process for all associates as well as essential visitors, at entry to all our offices and facilities.
If the initial body temperature screening is above the threshold, secondary body temperature screenings and health questionnaires are administered to determine exposure risk and work restriction requirements.
Associates exhibiting illness symptoms at this time are NOT allowed to work in our offices, warehouses or on the road.
PFG is requiring associates to follow social distancing guidelines during all work activities and is asking customers to establish and be respectful of similar ground rules.
To adhere to the latest guidance, PFG has implemented a face mask/cover and personal protective equipment program for all associates and will provide appropriate PPE, as needed.
Our experts are staying current with FDA-issued guidance on topics such as the transmissibility of coronavirus by food, or from food packaging surfaces, and we will adjust our actions as needed based on FDA guidance.
PFG is working with customers to determine limited- or no-contact delivery options that ensure all critical safety and business requirements will still be addressed.
PFG continues to work with our supply chain partners to source adequate inventory to serve our customers' needs.
ADDRESSING NEEDS LOCALLY
Our operating companies are using their strong relationships and understanding of their local market, suppliers and customers to apply PFG's enterprise-wide precautionary measures and implement the requirements in the best way to be effective and minimize impact for our associates and our customers. We appreciate your patience as we all navigate this dynamic situation.
Thank you for being a valued customer of PFG and our family of companies.